How Sebamed Skin Care Works
The Science Behind Healthy Skin
Everyone wants and deserves healthy skin. Besides the fact that it looks beautiful, healthy skin is also a sign of good overall health.
Knowing how important your skin is, you'd think that all of the skincare brands and advertisements would make it easy to care for the largest organ in your body. However, many of the skincare products on the market actually contain pH levels that weaken your skin.
To help you achieve and retain healthy skin, Sebamed is formulated to the same pH as healthy skin which has an average pH balance of 5.5.
Let's Get Specific
Did you know that your skin has a protective barrier that defends itself against environmental irritants and dehydration? In fact, your skin's surface is covered with a hydrolipid film called the acid mantle.
This film is slightly acidic (average pH of 5.5) and essential for supporting the barrier functions of the outermost layer of the skin (the Stratum Corneum). Over 100 clinical studies have confirmed this as well: maintaining that pH level to 5.5 supports your skin's acid mantle against environmental stress.
When the Barrier Breaks
If your skin barrier is disrupted, it can become overly sensitive and dry. The skin then becomes vulnerable to outside (e.g., allergens, irritants, weather, infection) and internal (e.g., stress, hormones, diseases) factors that can trigger skin inflammation.
The end result? Your skin loses moisture through unprotected cracks in its outermost layer, becoming more prone to infections.
How is Sebamed Different?
Since the 1960s, Sebamed has pioneered cleansing and skincare products that are free of soap. Our products match the acidity level of the skin's hydrolipid barrier to support your skin's natural barrier and healing ability.
The History and Success Story of a pioneer …
Washing with a mildly acidic solution of pH 5.5!

He started the application without clearance from hospital's medical directors:
The patients and hospital personnel were enthusiastic
The ban on soap was lifted
Dr. Maurer leaves the hospital and realizes his vision with sebamed
Through a key experience during his residency at the University Dermatology Clinic in Bonn in 1952,
Dr. Heinz Maurer created a solution for the cleansing of diseased skin - and as it turned out, became a pioneer in a large new market: the market for medical skin care - or to be expressed in words of Sebapharma: medicinal skin cleansing and skin care.
Back then, for patients with skin diseases, normal body hygiene (washing) was virtually impossible. There was a strict ban on washing with soap and there was no alternative. This ban was such an intolerable situation for many patients that it even led to suicide attempts. The knowledge that the skin is slightly acidic and is protected by the
so-called acid mantle from harmful environmental influences, dryness, germs, bacteria, etc. was the basis of the subsequent intensive dermatological research efforts initiated by Dr. Heinz Maurer. He searched for an ideal cleansing product that could be adjusted to a pH of 5.5 to support the skin's natural protective acid mantle.
At the hospital in Bonn, he bathed eczema patients for the first time in a mildly-acidic cleansing solution - without the knowledge or consent of the clinic's medical directors but with success. The patients were happy as the cleansing solution solved their hygiene problems. Further, the eczema-affected skin of patients not only remained unperturbed by bathing with the pH 5.5 cleansing solution but rather proved to be more receptive to further treatment.
The experiment had far-reaching implications: the soap ban was abolished. Dr. Maurer left the hospital in 1953 in order to pursue his vision and further develop his cleansing solution. sebamed was born.
Product No. 1 was born …
1963 Dr. Heinz Maurer's first soap-free cleansing bar goes into production.
1967 the Pioneer founds Sebamat-Chemie GmbH and develops further sebamed products.

In 1963, following extensive research and development, Dr. Heinz Maurer finally realized his idea. The first
'soap without soap' went into production - a cleansing bar based on tensides with a slightly acidic pH of 5.5 corresponding to the pH of healthy skin. Maurer provoked the medical world by stating: "People have been washing themselves incorrectly for 2,000 years."
In 1967, he founded Sebamat-Chemie GmbH and manufactured the first sebamed products. Dr. Maurer's medicinal products were well received in pharmacies and found considerable support amongst dermatologists because the dreaded ban on washing with many skin diseases became obsolete. Even soap intolerant patients could pursue proper bodily hygiene.
sebamed quickly lead to the opening of the new market of medicinal skin care. The idea was immediately imitated as other so-called 'pH neutral' products came onto the market. This, however, created confusion amongst consumers and in professional circles because the pH was higher than 5.5 and did not correspond accurately to the acid mantle of healthy skin.
The entrepreneur, Dr. Maurer, went up against big business - and he won! In its pioneering role, the brand sebamed remains unchallenged to this day and Dr. Maurer is recognized as the inventor and true advocate of the concept of pH 5.5 in the highly competitive market of medical skin care.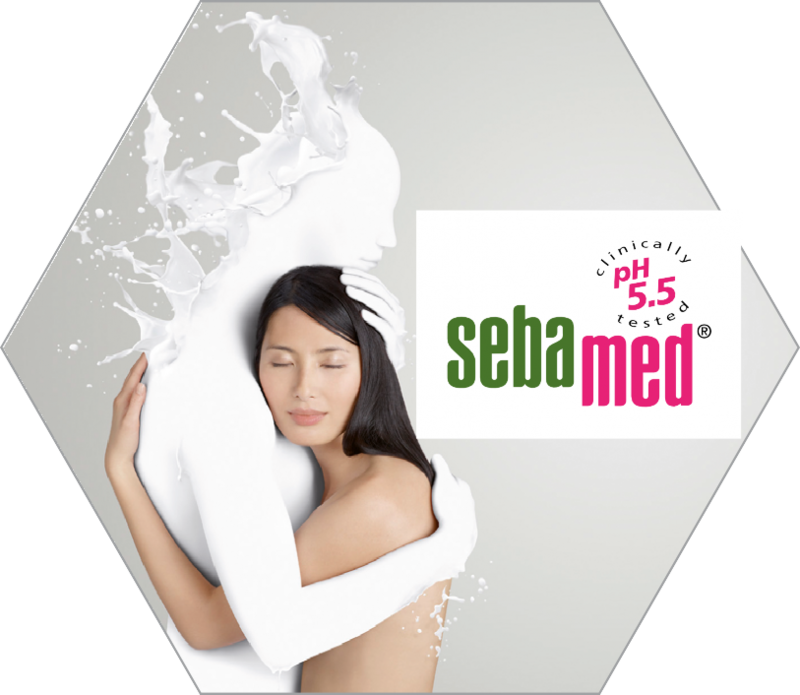 Ensured by our Cleansing and Skin Care Products …
Skin neutral pH formulation or all products rather than 'skin-friendly' or 'pH-neutral'
Developed with Dermatologists and Pharmacists
Extensive research and testing on sensitive and problematic skin rather than in standard tests
High-quality ingredients with proven efficacy and dosages rather than cosmetic 'gimmicks'
Excellent tolerability through the use of ingredients known not to be allergenic
Skin care and an aid in healing for sensitive, problematic skin
SEBAMED: SCIENCE FOR HEALTHY SKIN
Sebamed skin care means more safety for the consumer through dermatologically tested compatibility and proven efficacy for individual skin problems - and thus a reduced risk for purchasing a wrong product.
What distinguishes sebamed cleansing and skin care?
First of all, the products are tailored to the physiological pH of healthy skin. This differs fundamentally from products are referred to as 'skin-friendly' or 'pH-neutral' rather than be formulated to pH 5.5. sebamed is regarded as the specialized product for sensitive and problematic skin. Many of our products are ideally suited to support therapy for skin diseases.
The collaboration with experts from the field of dermatology has a long tradition at Sebamed. Renowned scientists accompany product development as advisors from the onset and carry out research and supporting studies.
Particular attention is devoted to the selection of cosmetic ingredients, their quality and their effective amounts in sebamed products. Strictly cosmetic advertising gimmicks are omitted on principle. Sebapharma combines only high-quality ingredients that have a real and active impact on skin care in its products.
Only the highest quality raw materials are purchased and checked for purity and quality. Ingredients with a known allergenic potential are largely avoided and preservatives are only added when absolutely necessary. All sebamed products have excellent tolerability and efficacy in terms of disease prevention, basic care and in promoting the healing of damaged skin. Many sebamed products have been evaluated and certified by the European Allergy Research Foundation (ECARF) and have been granted the seal "allergy friendly". This is a much stronger sales argument than the non-scientific claim 'hypoallergenic'.
RESEARCH
… our Philosophy and Paradigm for Success!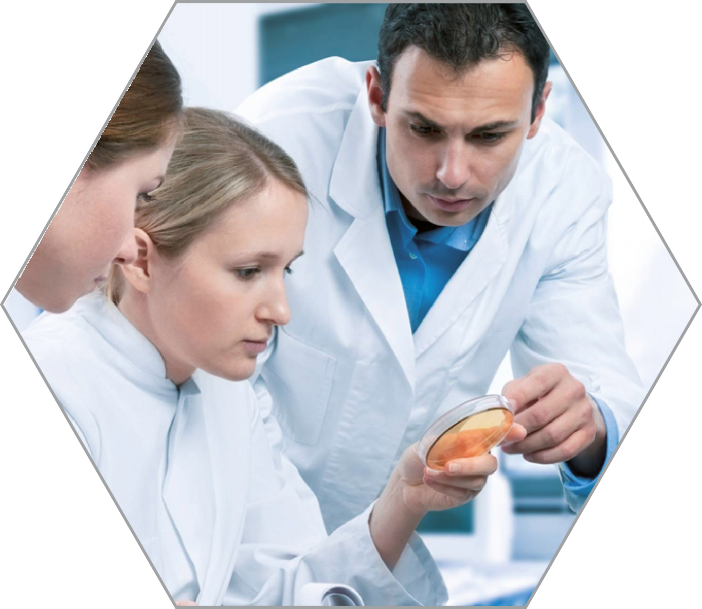 "Quality through research" means:
Innovation and research center
Highly qualified personnel
Dermatologic research at the 'cutting edge'
Stringent testing of ingredients
All products are dermatologically tested
Efficacy and tolerability proven in over 120 clinical studies
Continuous research at Sebapharma allows the ongoing development of innovative and effective dermatological products of the highest quality for medicinal skin care.
"Quality through research" is not only philosophy but also a paradigm at Sebapharma!
No sebamed product leaves the factory premises in Boppard without being clinically, dermatologically tested. Far more than 100 scientific studies prove the high efficacy and tolerability of sebamed products and confirm Sebapharma's competency in providing skin care for sensitive and problematic skin.
The research and development department is a cornerstone of the company and the guarantor for the implementation of our corporate philosophy. Under the leadership of Thomas Meyer, qualified employees including cosmetic chemists, microbiologists, process engineers, chemical laboratory specialists and pharmaceutical-technical assistants ensure that Sebapharma continually brings new, safe products that meet only the highest medical demands to the market.
Our innovation center also guarantees that the packaging and contents of all sebamed products always meet the highest quality requirements: innovations for individual skin needs.
QUALITY CONTROL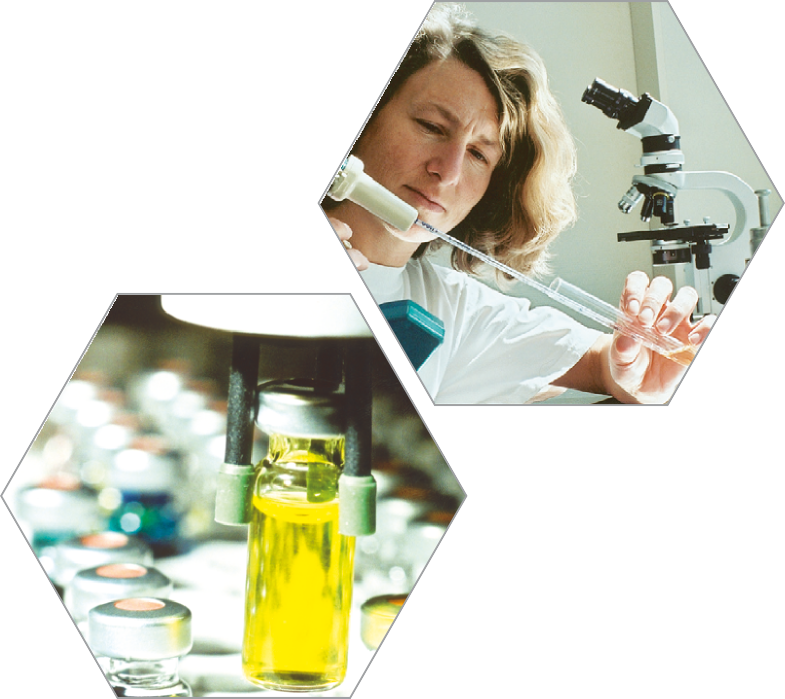 … through stringent Guidelines and Checks!
"Quality through research" also means:
Ensuring the highest quality standards
Checks and controls throughout the process - from raw materials to product development to production
Use of cutting edge methodology and analysis
Complete verification testing of microbiological purity
Purity and security through optimal preservation
The quality assurance department (QA) maintains the high quality standards of sebamed products. From raw materials through finished products through packaging, every ingredient and every packaging material is checked in accordance with strict quality guidelines bordering on perfection. Without a QA release, no bar, no bottle and no tube leaves the Sebapharma premises.
The cost-effective production of sebamed products through contract manufacturers would be unthinkable without the strict quality control provided by the QA department. Inspections are performed on site prior to production, as well as in-process and on the end product.
The analysis department is equipped with modern analytical tools such as HPLC (high pressure liquid chromatography) and GC (gas chromatography) units and tests for purity, identity and concentration of the ingredients as well as the amount of individual substances contained in the finished product.
The microbiology department utilizes ultra-modern laboratory equipment to ensure the safety of our products in terms of microbiological contamination. During product development, the use of preservatives is optimized through extensive testing so that as little preservatives as possible but as much as necessary are used. This is tested by the repeated inoculation and incubation of bacteria and fungi in the products. Just enough preservatives are used to keep the products from becoming contaminated. All raw materials, packaging and our manufacturing facilities are strictly monitored for microbiological purity.
SCIENCE AND RESEARCH
Close collaboration with dermatologists and pharmacists has been an important success factor for the brand from the beginning. Since 1992 scientific advisory board has been an institution at Sebapharma. A panel of leading dermatologists and scientists from the fields of medicine and pharmacy provides a continuous exchange of knowledge between the company, research institutions and dermatological practices. The board is also an important driver for the implementation of new approaches. It gives science-based support for market-driven innovation and accompanies our product ideas to implementation.
In addition, the board also acts as a jury for the Heinz Maurer Prize for Research in Dermatology which is awarded for outstanding work on the skin and its environment. The prestigious prize is awarded biannually and is endowed with 20,000 Euros. It is awarded in the areas of basic and clinical research. The Heinz-Maurer-prize is known today beyond the borders of Germany and is considered a major award in dermatological research.
Interdisciplinary cooperation is very important for Sebapharma as well because knowledge and developments in medicine - and dermatology in particular - progress every day. Therefore, Sebapharma also considers the constant monitoring of current publications and worldwide literature on special databases as an indispensable necessity.
CATEGORY MANAGEMENT
Based on the numerous individual care requirements, the sebamed product range has grown from the original cleansing bar to over 150 products for skin cleansing and skin care. This large number of products requires comprehensive category management in order to present products in optimal groups - based on product characteristics - for the consumer.
The individual sebamed product lines and skin care systems are easily distinguishable for the consumer. They are categorized based on various criteria and identifiable through:
Ž Body region: face, body, feet, hands, lips, hair
Ž Age/gender: baby care, care for young skin or mature skin, products for men
Ž Specific ingredients: such as Urea, Phytosterols, Hyaluronic acid
The breadth and conceptual range of skin care systems differ in the over 80 countries. They are adapted to the respective countryspecific care requirements of the consumer, climatic conditions and cultural differences in order to meet the individual market needs.
Help your skin heal itself by trusting the science behind healthy skin.