CLINICALLY TESTED SKIN CARE
In all cultures of the world, cosmetics have a long tradition - often in close association with medicine. In a way, the preoccupation with one's skin and its appearance can even be thought of as an indicator of the degree of development of a civilization.
Today, skin care and a neat appearance have a significant value.
Clinically tested skin care is legally classified as cosmetic skin care. The products are primarily used for cleansing and maintaining a good skin condition. Curing skin diseases, as with medication, cannot be achieved with skin care products. The special benefit of clinically tested skin care lies in the proven suitability for sensitive and problematic skin - skin that often reacts with irritation to "normal" skin care products.
The conscientious development and production of new skin care products requires a high ratio of efficacy and tolerability as a paradigm. The products are dermatologically-clinically tested on sensitive and problematic skin for their safety and efficacy. The composition is adjusted to suit recommendations for the application on various skin conditions. The products meet all regulatory requirements for cosmetics.
The characteristics of clinically tested skin care lead to it being recommended by doctors and pharmacists to provide the consumer with the best possible products, the utmost security and superior value.
LAWS / REGULATIONS
The regulation and legal definition of Cosmetics' …
Cosmetics have been legally defined and regulated in the EU since 1976 in the EU-Cosmetics Directive.
Special provisions in the EU and the United States are regulated by the laws governing foodstuffs.
Objective:
Better consumer protection and transparency regarding the products!
The basis for the following discussion is the legal framework governing cosmetic products in the European Union which makes up the primary binding regulations for Sebapharma as a German company. Within the context of globalization, however, similar regulation is enforced all over the world.
Cosmetic products are defined as products that are exclusively or mainly intended to be applied externally to the body or in the mouth to clean, protect, care for, to perfume, to change the appearance or influence the odor of the body.
Since 1976, there is a uniform legislation EU-wide regulating cosmetics. In addition to defining cosmetics, the security requirements and the labeling requirements for the products are specified.
A cosmetic product may not have a systemic effect or cure a disease.
In all countries there are lists of substances regulated by law that must not be used in a cosmetic product, including prescription and pharmacy-only toxic substances and preparations, critical perfume ingredients and questionable animal substances. In addition, positive lists contain ingredients and dosage requirements considered to be safe for items such as colorants, preservatives and UV filters.
The special sebamed concept …
Aside from their cosmetic properties, all products fulfill specific medicinal purposes:
Ensuring healthy skin
Preventing skin problems
High skin tolerability
Supporting the regeneration of diseased skin
Proven effective in dermatological tests
Product development in cooperation with dermatologists and pharmacists
sebamed is the brand for skin cleansing and care at same pH as healthy skin !
sebamed clinically tested skin care meets all requirements that are specified under the Cosmetics Directive - to cleanse, protect and care for skin so that its condition remains good. At the same time, consumers' expectations with regard to cosmetic properties such as fragrance, foaming, a pleasant look and feel as well as good application/absorption characteristics are fulfilled.
In collaboration with dermatologists and pharmacists, sebamed´s research has developed products that support healthy skin, help prevent skin problems and are excellently tolerated even in sensitve skin. sebamed products can even support therapeutic measures for the healing of problematic skin conditions. sebamed products are recommended by dermatologists and pharmacists to support basic care for skin diseases.
The Sebapharma quality standards dictate the use of high-quality active ingredients with a proven care effect. The dosage of active ingredients assures efficacy and questionable substances are not used.
The special feature of sebamed products is that the cleansing and skin care products are adjusted to the skin's physiological pH of 5.5. This distinguishes sebamed from all competitors!
Through the pH of 5.5, the skin receives protection for its essential acid mantle or, with problematic skin conditions, the acid mantle is regenerated. The efficacy and function of care products is tested on problematic and sensitive skin rather than on subjects with normal skin.
sebamed has developed special care systems for various skin conditions. Even with skin diseases, skin cleansing and care products are extremely effective when used to support therapy. sebamed products have been proven to support the efficacy of medical therapy.
ALLERGY-FRIENDLY SKIN CARE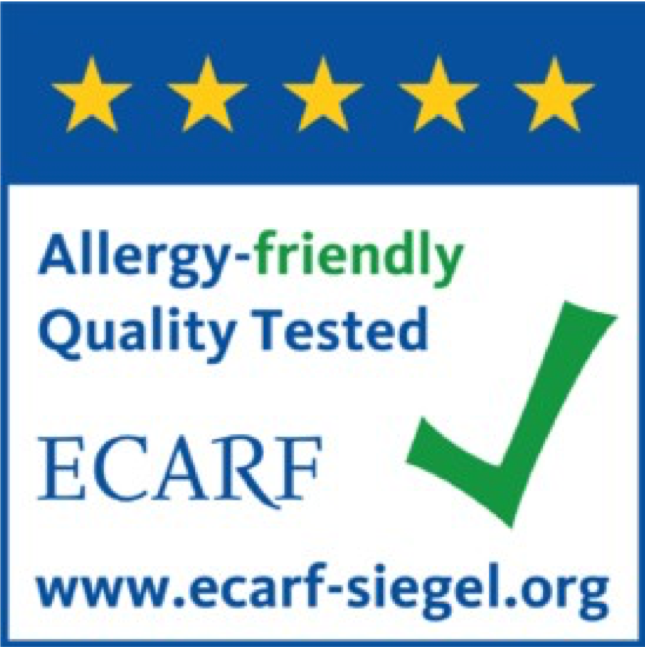 European Centre for Allergy Research Foundation (ECARF)
Cosmetics granted with the ECARF Seal are well tolerated by sensitive skin and suitable for people with allergies
ECARF grants the ECARF-Quality seal for allergy-friendly products and services
Starting in 2014, a variety of sebamed products have been certified as "Allergy-friendly"; more will follow
Allergy friendly cosmetic products
Consumers, pharmacists and physicians all want to make sure that the cosmetic products they use, recommend or prescribe, respectively, are not only generally well tolerated but specifically have a low risk for allergies. The frequently used claim "hypoallergenic" is unreliable because there is no clearly defined method to prove it. The European Allergy Research Foundation aims at providing people with allergies with products and services that comply with criteria defined by allergy experts. Its quality seal stands internationally for allergy-friendly products
and services.
The advantage of the ECARF quality seal lies in its high test standards which are scientific, independent, transparent and international. With regard to the globally increasing number of allergies it is important to offer affected persons a reliable and helpful orientation point among the multitude of available skin care products provided by the scientific dermatological approach to the evaluation.
The seal is also used for established global brands in other areas like Mercedes-Benz (car interiors designed for special needs e.g. for respiratory allergies), Bosch (washing machines with specific washing programs to rinse off of allergens) or Henkel (detergents developed for sensitive skin).